My heart is singing..oh yes it is!
I wonder if you remember the little JOY journal I made a while back...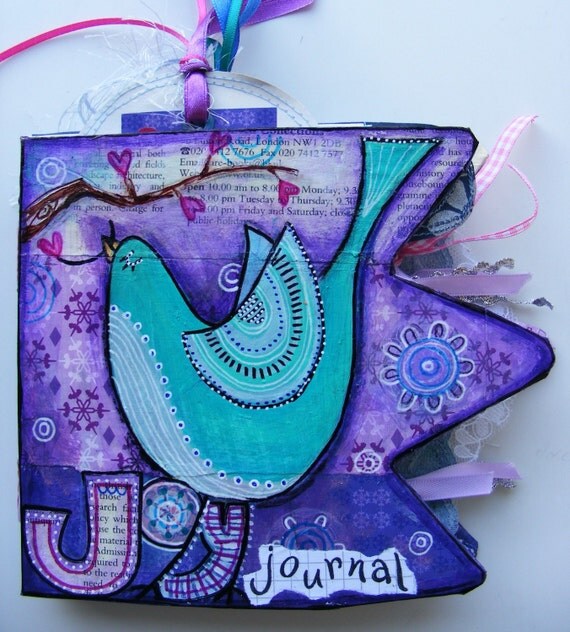 It was for a lovely lady called Katie who lives all the way over yonder in Hong Kong. The journal had all the usual bits and bobs, various papers, recycled and new, including a road atlas of Britian.
Turned out with a wonderful twist of fate, that the random parts of the Road Atlas I had used as pages in the journal actually featured the little parts of the world where Katie's family live?!
I LOVE the incomprehensible mind boggle that such beautiful synchronicity presents :) And of course at that moment I knew the JOY journal had found its way home :)
That was a while ago now, and since then I have had fleeting thoughts of that wee journal, along with several others that have found their way "home".....wondering what treasures have made their way onto those pages... cue singing heart...
I got an email the other day from Katie sharing a "spot of JOY" as she called it! :D
57 gorgeous photos of the colourful, loved and adorned pages she had filled to overflowing....57 reasons that made my heart sing and filled me to overflowing !
Katie, so kindly was happy for me to share her wonderful pages...and there's a whole lot more over
here
!
So thankyou Katie for bringing me JOY, and THANKYOU for the reminder that journals ARE good for the soul and not just a frivolous way for me to make a living! :) x